INTERVIEW: Big Sean Talks iHeartRadio Music Awards & Upcoming Performance
Big Sean is returning to the iHeartRadio Music Awards stage this year on March 5th. The I Decided. rapper is part of this year's star-studded lineup of performers, which includes Bruno Mars, Katy Perry, Ed Sheeran, The Chainsmokers, Shawn Mendes, Thomas Rhett, and Noah Cyrus.
Last year, Sean was nominated for two iHeartRadio Music Awards; Hip Hop Song of the Year for his collaboration "Blessings" with Drake and Kanye West, as well as Hip Hop Artist of the Year. Having just released his new album I Decided., which features singles like "Bounce Back" and "Moves," it will be exciting to see the hip hop star perform his new music live.
We recently caught up with Sean ahead of the awards, which will air live on TBS, TNT and truTV at 8 p.m. ET/5 p.m. PT from the historic Forum in Los Angeles on Sunday, March 5th. During the exclusive interview, he talked about what it was like being at the awards last year, what fans can look forward to from his performance next month, and more.
Big Sean tells us he is looking forward to hitting the stage at this year's iHeartRadio Music Awards as everyone from his hometown in Detroit watches. "What I'm looking forward to the most about hitting the stage is shutting it down. Right before my city, right before Detroit -- everybody looking from home. And, just having fun."
As you can imagine, a lot goes into preparing for a performance like this, and Sean says he'll "probably be working on it until the last day." But, rest assured, it will be nothing short of amazing. "What I can tell you is that it's going to be fire!"
This year's awards show will be star-studded, and will also host many of Sean's friends and fellow recording artists. The rapper tells us he is excited to catch up with pals like The Chainsmokers and Bruno Mars. "I can't wait to see my dogs The Chainsmokers, those are my homies. I know they're going to be there because they are just poppin' right now. I know Bruno. That's one of my good homies. We're in the studio working on some stuff together, so can't wait to see my dog."
Sounds like an awesome collab is in the works!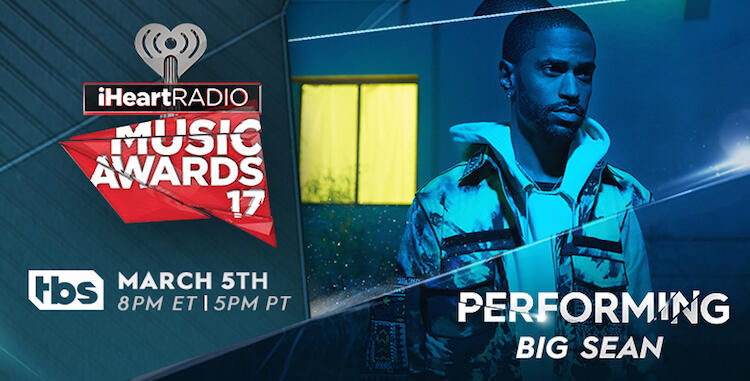 Reflecting on being nominated for an iHeartRadio Music Award last year, Sean tells us, "It was a great awards show last year. I was nominated. That was cool to be nominated. I presented, and I'd just dropped a project Twenty88, our first project as the EP. So it was a cool moment for me just in my life."
The iHeartRadio Music Awards is a place where your favorite stars come together to celebrate awesome music in one room, and Big Sean even describes it as a reunion of sorts. He says:
"It did not feel like an awards show. It felt like I was with my dogs I haven't seen in a while. So, it felt like a party. We're sitting at the tables, you can get up and go to other people's tables. It felt like a party. It felt like a reunion. It felt like ... this is what I wanted in high school when I was beat boxing on the lunch table. The iHeartRadio Music Awards just embodies all that. It's big performances. Big names, big all that ... and Big Sean."
TBT...