Camila Cabello's Response To Ariana Grande's Engagement Was Just Perfect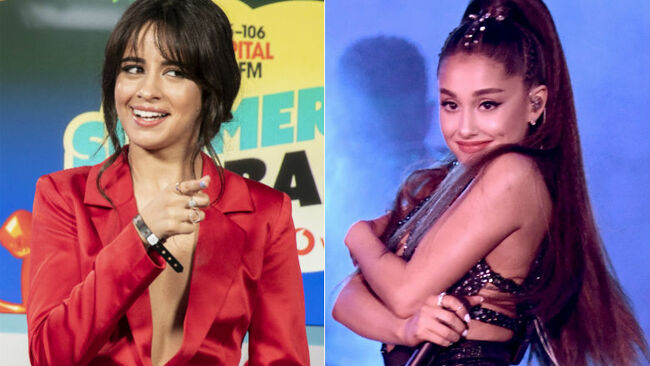 It seems like Camila Cabello has a lot of thoughts on the news that Ariana Grande is set to walk down the aisle with Pete Davidson, but they're mostly laced with humor, as seen by her back-and-forth banter with Grande on Twitter.
Less than 24 hours after the engagement news broke, Grande took to the social media platform to send Cabello a message. "We need to talk @camila_cabello," she tweeted. From there on, it was all giggles as the pair went back and forth, joking about divorce and who was going to keep the ring, dogs, and even the cannolis. "u keep the kids I'LL be keeping the cannolis @camila_cabello thank you," Grande wrote at one point, before the former Fifth Harmony singer clapped back and told her that she'd see her in court.
Hours after the engagement news broke, Grande and Davidson took to Disneyland. During the outing, the pop star documented festivity on her Instagram Story, sharing videos of the SNL star offering up silly faces and sounds mid-ride. Her captions didn't make any reference to the news, but she did seem to have fun with her fiancé. "Another take. I really like this one," she captioned one of the posts, before getting a little dirty with another, writing, "When I got on top." Grande and Davidson were also spotted via the @DisneylandCelebrities Instagram account, which captured footage of them getting out of the front seat of a rollercoaster.
"It's a recent engagement. They're just two people who found love quickly and make each other happy all the time. They both started talking about it this past weekend. It's nothing they've been hiding," an insider close to the situation revealed to PEOPLE.